Kemway Builders is a genuine Alberta success story. For the past two and half decades, they have been using a unique customer-oriented, design-build business model to build the capital region's most distinctive and specialized industrial and commercial buildings.
Kemway was established as Kemway Contractors by father and son team Herman and Terry Kemp in 1990. In 2002, as Herman prepared to retire, brother Glen Kemp and longtime family friend Lothar Krause joined what was already a successful general contracting company.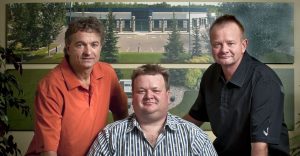 Kemway has seen steady growth over the last 25 years regardless of the economic cycles. The majority of the team were hired as inexperienced young people and an investment in these individuals has created success stories that Kemway is very proud of.
Kemway has a reputation for integrity and quality. Relying solely on repeat business and word-of–mouth referrals, Kemway has grown from a three-man operation into a thriving business family that employs 22 of the most dedicated office and tradespeople in the industry.
In 2016, we changed our name to Kemway Builders Inc. and made significant internal and external enhancements to our core business to take the company into the next generation.